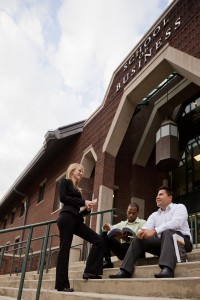 UConn's Marketing Department gives you the solid training you need to excel in professional sales. Broaden your experience at the #1 undergraduate public business program in New England* with faculty who have extensive experience in professional sales and work with corporate partners on sales techniques. We offer a concentration for marketing majors and a minor for non-marketing business and non-business students in Professional Sales Leadership. Highlights include:
A strategic approach that integrates sales efforts; learn how to prioritize sales opportunities, plan account strategies, and collaborate as part of a sales team to deliver superior customer value,
Student-centered learning includes role-play selling exercises, case studies, field assignments, internships, and sales competitions,
An emphasis on the critical thinking, communication, and data-driven analytical approaches that leading businesses want.
Concentration
Marketing majors, Storrs only.
Minor
Business and non-business majors; not open to marketing majors.
To learn more about participating in Professional Sales Leadership as a student or partner company, please contact Bill Ryan, Director, Professional Leadership Program.
______________________________________________________________________________________
PSL Partners
The Marketing Department, UConn School of Business, collaborates with marketing and sales professionals from partner companies to help engage with and inform students about best business practices. Those companies often recruit our graduates, owing to the quality education and real-world experience they receive while a student at the School of Business.
Each year a select group of professional sales companies supports our mission. PSL Partners participate as guest speakers, as sales experts in role-plays, and attend exclusive networking events. Partners also provide sales internships and full-time positions for students interested in professional sales careers.
2020-2021 PSL Partners:
ADP
Aetna
CBS/Xerox
Dell-EMC
Enterprise
Federated Insurance
Gartner
Johnson Controls
Liberty Mutual
Stryker
Virtus Investments
The Fodor Family Scholarship Fund
Become a PSL Partner
Recruiting UConn Marketing Majors
The Marketing Department and the School of Business are committed to connecting our students with the greater business community's hiring needs. PSL Partners have access to highly skilled undergraduate and graduate School of Business students through job postings on Husky Career Link, career fairs, student-networking events, and the Marketing Department Awards Reception.
Recognition and Visibility
PSL Partners receive special recognition at the Marketing Department Awards Reception, networking events, newsletters, on the website, and at various other events where students, alumni and corporate affiliates are present.
Partnership Opportunities
Partners have the opportunity to bring real-world experience and perspectives to our students through role-plays, guest speaking, networking, and collaboration on class projects.
If you are interested in becoming a PSL Partner, please contact Bill Ryan, Director, Professional Leadership Program.
*US News & World Report 2014; Bloomberg Business Week 2013